Home
Photo gallery
Asia....our Saluki
Asia....our Saluki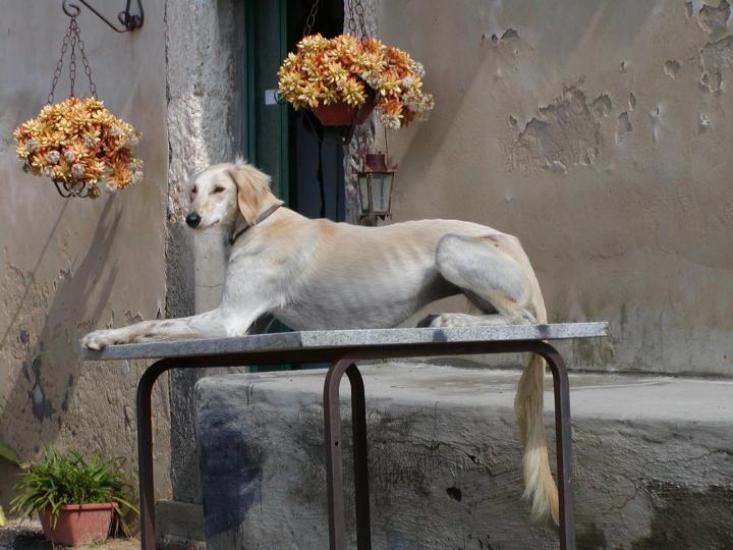 Italian Champion
Born April 24, 2008
Asia is a very special Persian Greyhound ..!

The only Saluki "Cirnecata", she has always lived in the company of our Cirnechi dell'Etna and from their she has took many aspects of her character ...!

She is a beautiful subject with cream coat and she has good results in dog shows, but above all she is very sweet and affectionate ..!


PEDIGREE
Parents
Grandparents
3th Generatin 4th Generation
VINCITORE


EL-UBAID'S KROMANTIE KHAN

EL-UBAID'S CHEDDAH

NORDWART SAID HAKIM FIN MVA
EL-UBAID'S ANASTASIA CH I B NL


SRINAGAR MANAYU DURGA

SPRINAGAR JATARUPA SIDDHARTHA CH

SPRINAGAR VARENYA ISIS
RUALLA



KOHEILAN VON DER IRMINSUL

MAZURI SAWAHIN DT LUX SCHW VDH CH BDSG

LASKI VON DER IRMINSUL

BENAZIR

DHARIN

KARISTA
RAISSA


KOHEILAN VON DER IRMINSUL

MAZURI SAWAHIN DI LUX SCHW VDH CH BDSG

KIRMAN KHAYAL INT NORD CH FIN RENNCH FIN SG

D'ANSOR BECKTOR BATHSHEBA CH
LASKI VON DER IRMINSUL


CAZUL VON DER IRMINSUL VDH/DWZB S3610 DT.VDH.CH

AMMA VON DER WOTANSBURG VDHS-2650


BENAZIR

DHARIN

TIN HINAN'S ASIK SHSB 460341

TAMINA

KARISTA

ATENAGORA

DENEBE
Click on a photo for a better view